The DE2 series has consistently been at the forefront of educational development boards by distinguishing itself with an abundance of interfaces to accommodate various application needs. Extending its leadership and success, Terasic announces the latest DE2-115 that features the Cyclone IV E device. Responding to increased versatile low-cost spectrum needs driven by the demand for mobile video, voice, data access, and the hunger for high-quality images, the new DE2-115 offers an optimal balance of low cost, low power and a rich supply of logic, memory and DSP capabilities.

The Cyclone EP4CE115 device equipped on the DE2-115 features 114,480 logic elements (LEs), the largest offered in the Cyclone IV E series, up to 3.9-Mbits of RAM, and 266 multipliers. In addition, it delivers an unprecedented combination of low cost and functionality, and lower power compared to previous generation Cyclone devices.

The DE2-115 adopts similar features from the earlier DE2 series primarily the DE2-70, as well as additional interfaces to support mainstream protocols including Gigabit Ethernet (GbE). A High-Speed Mezzanine Card (HSMC) connector is provided to support additional functionality and connectivity via HSMC daughter cards and cables. For large-scale ASIC prototype development, a connection can be made with two or more FPGA-based boards by means of a HSMC cable through the HSMC connector.
Download
Documents
| | | | | |
| --- | --- | --- | --- | --- |
| DE2-115 User Manual | 2.3 | 14048 | 2017-08-14 | |
| DE2-115_FAQ_v1.1 | | 198 | 2012-06-07 | |
CD-ROM
| | | | | |
| --- | --- | --- | --- | --- |
| DE2-115 CD-ROM (Cypress USB) | 3.0.6 | | 2018-07-03 | |
| DE2-115 Control Panel | 2.2.0 | | 2015-03-27 | |
| DE2-115 System Builder | 2.0.1 | | 2014-10-03 | |
| DE2-115 CD-ROM (NXP USB) | 1.0.6 | | 2012-07-21 | |
Please note that all the source codes are provided "as-is". For further support or modification, please contact Terasic Support and your request will be transferred to Terasic Design Service.
More resources about IP and Dev. Kit are available on
Intel User Forums
.
Demonstrations
PS2 Mouse
IR Receiver
TV Box
SD Card Reader
SD Card Music Player
A Karaoke Machine
Music Synthesizer
Audio Recording and Playing
USB Paintbrush
USB Device
Web Server
DE2-115 Tools
DE2-115 Control Panel – allows users to access various components on the DE2-115 platform from a host computer.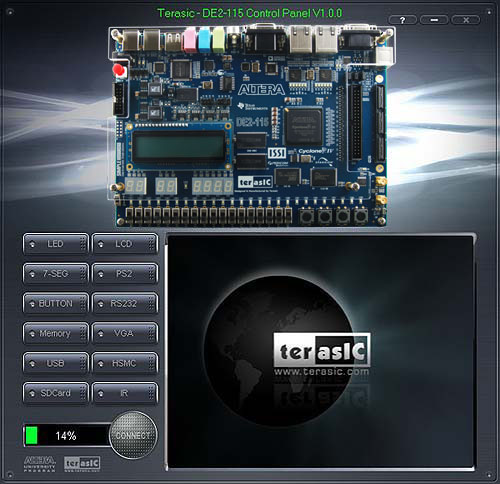 DE2-115 System Builder
DE2-115 System Builder – a powerful tool that comes with the DE2-115 board. This tool will allow users to create a Quartus II project file on their custom design for the DE2-115 board. The top-level design file, pin assignments, and I/O standard settings for the DE2-115 board will be generated automatically from this tool. In addition, through the GPIO and HSMC connectors you can select various daughter cards in conjunction with the DE2-115 using the DE2-115 System Builder.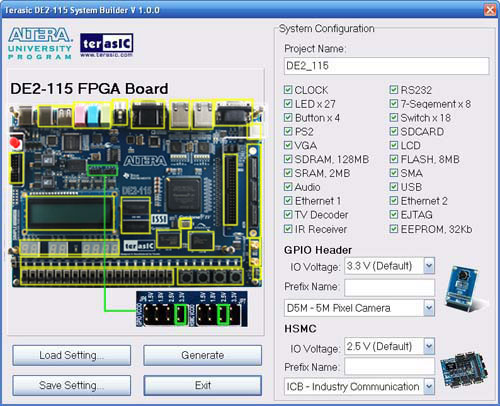 Related course resources:
School: Universidad Pontificia BolivarianaInstructor:Prof. Holguer A. Becerra
Course 1: - [Publication] Signal processing and waves graphing acceleration using FPGA
School: University of Cambridge Professor: Simon Moore
Course 1: -CHERI: a research platform deconflating hardware virtualization and protection
Other course resources you might interested:
School: Cornell UniversitySenior Lecturer: Bruce Land
Course 1: - ECE5760 Advanced Microcontroller Design and system-on-chip [DE2]
Course 2: - ECE 5760 Simplified Floating Point for DSP [DE2]
Open Source Release
Parallax Propeller 1




Open Source Hardware


more information | Parallax
Video Demo : Four-Feed Security System Demonstration
In this demonstration, we observe a four-feed security system design on the DE2-115. One feed is from a DVD player input, and three other feeds come in through 5 megapixel cameras. Several functions are included in this design as well, such as zooming in and out, selecting individual feeds, and setting exposure levels. The DE2-115 is powered by an Altera Cyclone 4 FPGA.
*If the film is unavailable, please kindly try another link below:
http://www.youtube.com/watch?v=RlrAdS8eaxc
Video Demo : 3 Ways to Quickly Adapt to Changing Ethernet Protocols