상품상세정보
● Overview
The DE0 Development and Education board is designed in a compact size with all the essential tools for novice users to gain knowledge in areas of digital logic, computer organization and FPGAs. It is equipped with Altera Cyclone III 3C16 FPGA device, which offers 15,408 LEs. The board provides 346 user I/O pins, and is loaded with a rich set of features that makes it suitable to be used for advanced university and college courses, as well as the development of sophisticated digital systems. The DE0 combines the Altera low-power, low-cost, and high performance Cyclone III FPGA to control the various features of the DE0 Board. The DE0 Development Board includes software, reference designs, and accessories required to ensure the user simple access in evaluating their DE0 Board.
● Specification
FPGA
Cyclone III 3C16 FPGA

15,408 LEs
56 M9K Embedded Memory Blocks
504K total RAM bits
56 embedded multipliers
4 PLLs
346 user I/O pins
FineLine BGA 484-pin package
Memory
SDRAM

One 8-Mbyte Single Data Rate Synchronous Dynamic RAM memory chip

Flash memory

4-Mbyte NOR Flash memory
Support Byte (8-bits)/Word (16-bits) mode

SD card socket

Provides both SPI and SD 1-bit mode SD Card access
Interface
Built-in USB Blaster circuit

On-board USB Blaster for programming
Using the Altera EPM240 CPLD

Altera Serial Configuration device

Altera EPCS4 serial EEPROM chip

Pushbutton switches
Slide switches
General User Interfaces

10 Green color LEDs
4 seven-segment displays
16x2 LCD Interface (Not include LCD module)

Clock inputs
VGA output

Uses a 4-bit resistor-network DAC
With 15-pin high-density D-sub connector
Supports up to 1280x1024 at 60-Hz refresh rate

Serial ports

One RS-232 port (Without DB-9 serial connector)
One PS/2 port (Can be used through a PS/2 Y Cable to allow you to connect a keyboard and mouse to one port)

Two 40-pin expansion headers

72 Cyclone III I/O pins, as well as 8 power and ground lines, are brought out to two 40-pin expansion connectors
40-pin header is designed to accept a standard 40-pin ribbon cable used for IDE hard drives

● Layout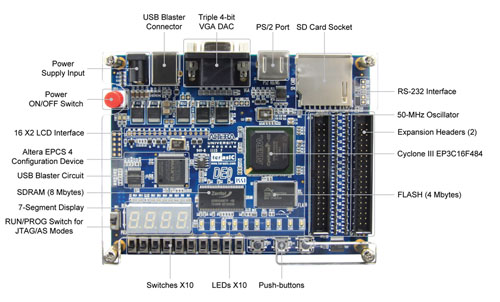 ● Resources
DE0 Debounce Project contains a new DE0 top Quartus project with debounce IP, as well as a DE0 debounce
demonstration. For more information on the project and demo, please read the "readme.txt" file included.

Documents

| Title | Version | Size(KB) | Date Added | Download |
| --- | --- | --- | --- | --- |
| DE0 Debounce Project | - | 97 | 2010-07-30 | |
| DE0 User Manual | - | 2410 | 2009-11-06 | |

CD-ROM

| Title | Version | Size(KB) | Date Added | Download |
| --- | --- | --- | --- | --- |
| DE0 CD-ROM & Control Panel | - | | 2010-05-24 | |
DE0 Reference Designs
SD Card reader
VGA Color Pattern
DE0 Control Panel
DE0 Control Panel allows users to access various components on the board from a host computer.
● Kit Contents
The DE0 package includes:
The DE0 board
USB Cable for FPGA programming and control
DE0 System CD containing :

Altera's Quartus? II Subscription & Web Edition and the Nios? II Embedded Design Suit Evaluation Edition software
The DE0 documentation and supporting materials, including the User Manual, the Control Panel utility, reference designs and demonstrations, and device datasheets.

Clear plastic cover for the board
7.5 DC wall-mount power supply
교환 및 반품안내
● 제조사별로 교환 정책이 상이하니 하단 고객센터 연락처로 문의 주시기 바랍니다.
환불안내
● 제조사별로 환불 정책이 상이하니 하단 고객센터로 문의 주시기 바랍니다.
---
비밀번호 인증
글 작성시 설정한 비밀번호를 입력해 주세요.
확인
장바구니 담기
상품이 장바구니에 담겼습니다.
바로 확인하시겠습니까?