상품상세정보
● Overview
The Terasic TR10a-HL2 Arria 10 GX FPGA Dev. Kit provides the robust hardware solution for designs that demand high capacity and bandwidth memory interfacing, ultra-low latency communication, and power efficiency. Powered by the top-of-the-line Intel Arria 10 GX, the full-height, half-length accelerator aims at delivering the best system-level integration and flexibility to the industry.
The Arria® 10 GX FPGA features integrated transceivers that transfer at a maximum of 12.5 Gbps, allowing the TR10a-HL2 to be fully compliant with version 3.0 of the PCI Express standard, as well as allowing an ultra low-latency, straight connections to four external 40G QSFP+ modules. Not relying on an external PHY will accelerate mainstream development of network applications enabling customers to deploy designs for a broad range of high-speed connectivity applications. For designs that demand high capacity and high speed for memory and storage, the TR10a-HL2 delivers with six independent banks of QDRII+ SRAM, high-speed parallel flash memory. The feature-set of the TR10a-HL2 fully supports all high-intensity applications such as low-latency trading, cloud computing, high-performance computing, data acquisition, network processing, and signal processing.
The TR10a-HL2 has a PCIe x16 edge connector which includes two PCIe Gen3 x8 interfaces. Each interface is directly connected to the FPGA PCIe Hard IP. It allows one PCIe Gen3 x8 connection in standard PCIe slot or two PCIe Gen3 x8 connections in a PCIe bifurcation slot. With dual PCIe Gen3 x8 interfaces, the TR10a-HL2 board can provide double the throughput rate than that of the TR10a-HL board.
● Specification
FPGA
Altera Arria 10 GX FPGA (10AX115N2F45E1SG)
FPGA Configuration
On-Board USB Blaster II or JTAG header for FPGA programming
Fast passive parallel (FFPx16) configuration via MAX II CPLD and flash memory
Memory
128MB FLASH
6 Independent 550 MHz QDRII+SRAMs, 18-bits data bus and 72Mbit for each
Communication and Expansion
Four QSFP+ connectors
PCIe x16 edge connector (includes dual pcie gen3 x8 interfaces)
One 2x5 RS422 expansion header
One 2x4 GPIO expansion header
Others
General user input / output:

4 LEDs
1 Bracket LED Array
4 push-buttons
2 DIP switches

On-Board Clock

50MHz Oscillator
Programmable Clock Generator

System Monitor and Control

Temperature sensor
Power Monitor
Fan control

Power

PCI Express 6-pin power connector, 12V DC Input
PCI Express edge connector power

Mechanical Specification

PCI Express standard height and 1/2-length
Block Diagram
● Layout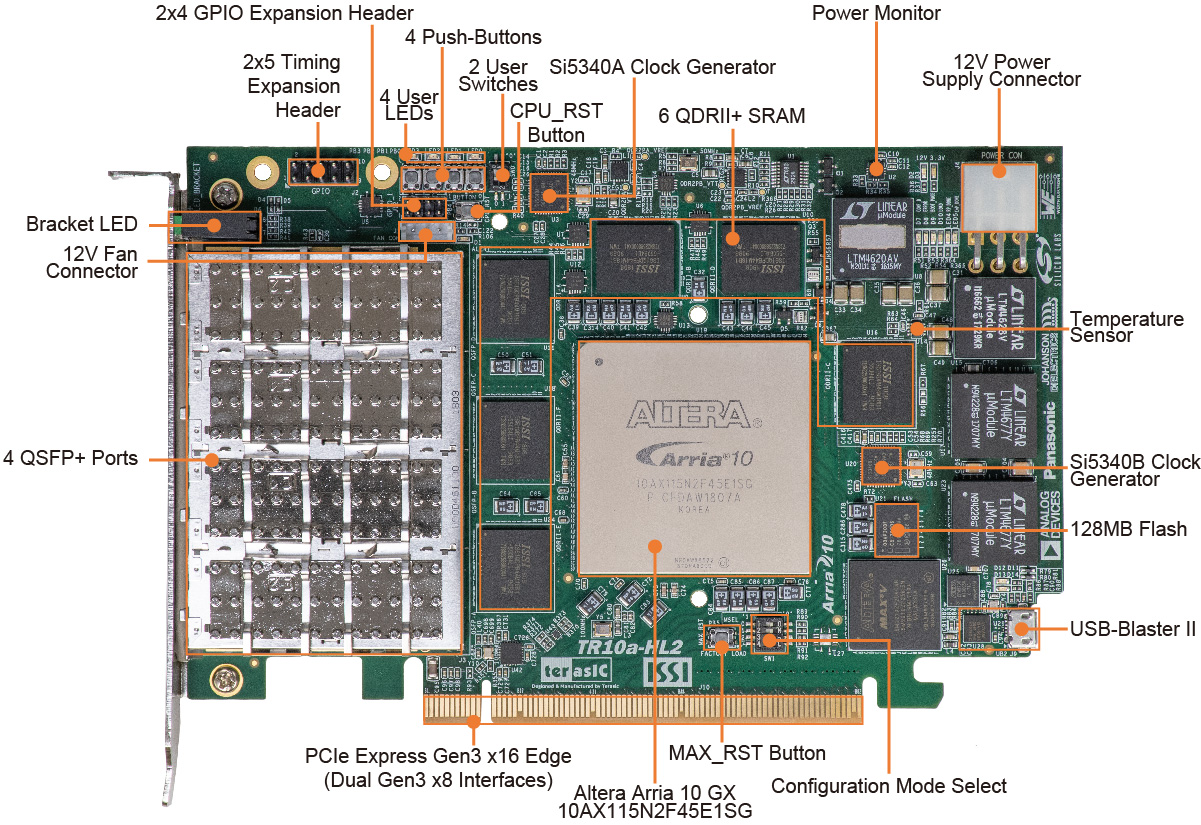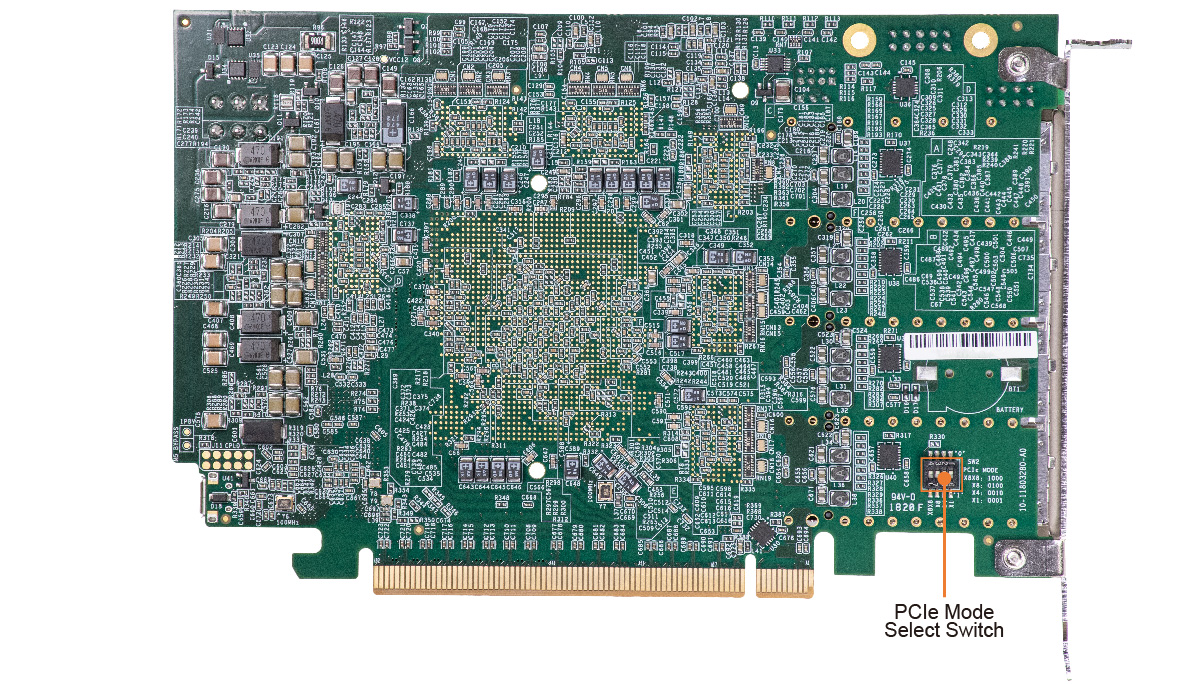 ● Resource
● Kit Contents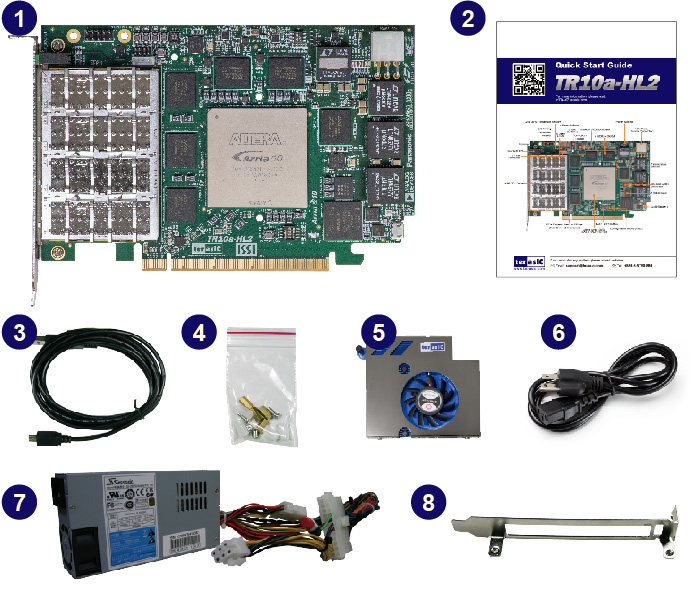 TR10a-HL2 Development Board
TR10a-HL2 Quick Start Guide
Micro USB Cable
Screw & Copper Pillar Package
Fan (Installed)
AC Power Cord
Power Supply & Power Cable
PCIe Bracket (Installed)
Quartus design software license is not included in this kit.
교환 및 반품안내
● 제조사별로 교환 정책이 상이하니 하단 고객센터 연락처로 문의 주시기 바랍니다.
환불안내
● 제조사별로 환불 정책이 상이하니 하단 고객센터로 문의 주시기 바랍니다.
AS안내
● 제조사별로 A/S정책이 상이하니 하단 고객센터로 문의 주시기 바랍니다.
---
비밀번호 인증
글 작성시 설정한 비밀번호를 입력해 주세요.
확인
장바구니 담기
상품이 장바구니에 담겼습니다.
바로 확인하시겠습니까?