Notice for purchase:
This series of development boards include AX7A035 and AX7A035B.
Only the Ethernet interface chips of the expansion board are different, and the functions are the same.
The two models will be delivered randomly according to the inventory, please distinguish them according to the QR code label.

Xilinx Artix-7FPGA Development Board
PCIe 2.0, 2 SFP, HDMI Input/ Output
Apply to PCIe Communication and Data Processing Video Image Transmission and Processing Optical Fiber Communication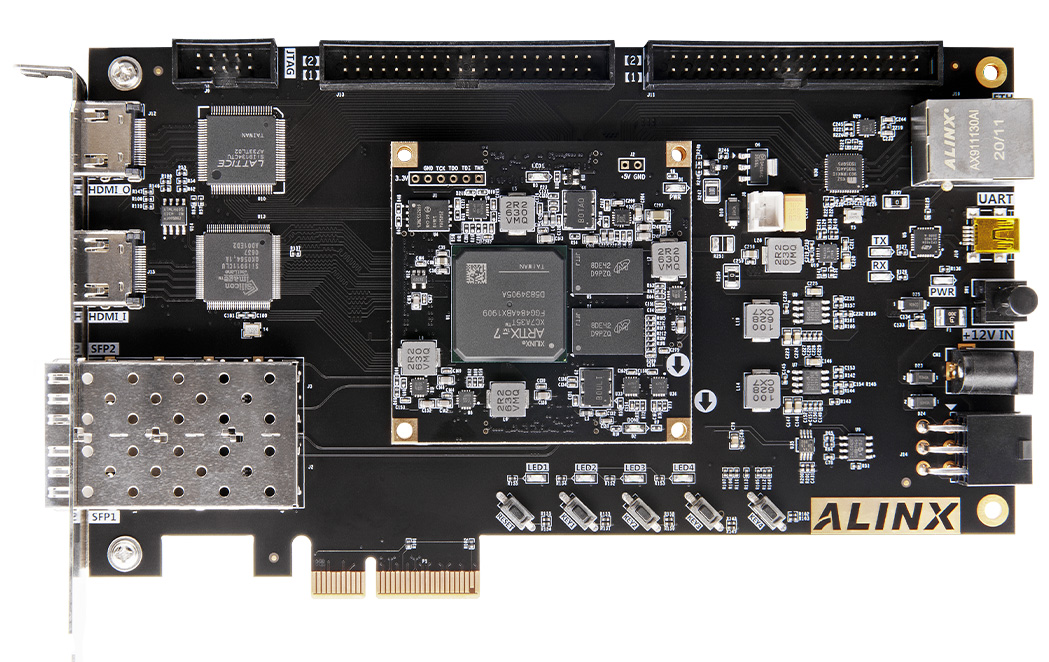 Techinal Support
Supporting Verilog HDL Demos and Docuemnts,All Doucments Saved in Dropbox, after buy the board, email to get it.
00. vivado2017.4 Installation
01. LED water lamp experiment and simulation in vivado
02. Key detection experiment in Vivado
03. PLL Experiment in Vivado
04. Serial port Transmitting and Receiving experiment
05. Key debounce experiment
06. I2C Interface EEPROM Experiment
07. SD Card Read and Write Experiment
08. HDMI Test Experiment
09. DDR3 Read Write and Simulation Experiment
10. Recording and playback Experiment of AN831 Module
11. SD Card Music Player Experiment
12. Character Display Experiment
13. SD Card Read BMP Picture Display Experiment
14. OV5640 Camera Display Experiment
15. SOBEL Edge Detection Experiment
16. AD9238 Waveform Dispaly Experiment
17. AD7606 Waveform Display Experiment
18. AD/DA Testing Experiment
19. AD9767 Waveform Display Experiment-Dual channel Sine Wave Experiment
20. AD9767 Waveform Display Experiment-Dual channel Triangle Wave Experiment
21. GTX Fiber Optic Communication IBERT Testing Experiment
22. AD9238 Chip Ethernet Transmission
23. AD7606 Chip Ethernet Transmission Experiment
24. AD9280 Chip Ethernet Communication
25. Gigabit Ethernet Video Transmission Experiment
26. GTP Fiber Optic Communication IBERT Testing Experiment
27. Video Image GTP Fiber Optic Communication Testing Experiment
28. PCIe Speed Test Experiment
29. PCIe HDMI Input Experiment
30. PCIe HDMI Output Experiment
31. PCIe xdma Interface Experiment
Product Package
AN9767 Collection Package
AN9238 Collection Package
Supporting Modules in the Package, Click to Learn More
key Features
·Core Board SOM
*Core Board , Click to Purchase >>
·FPGA Board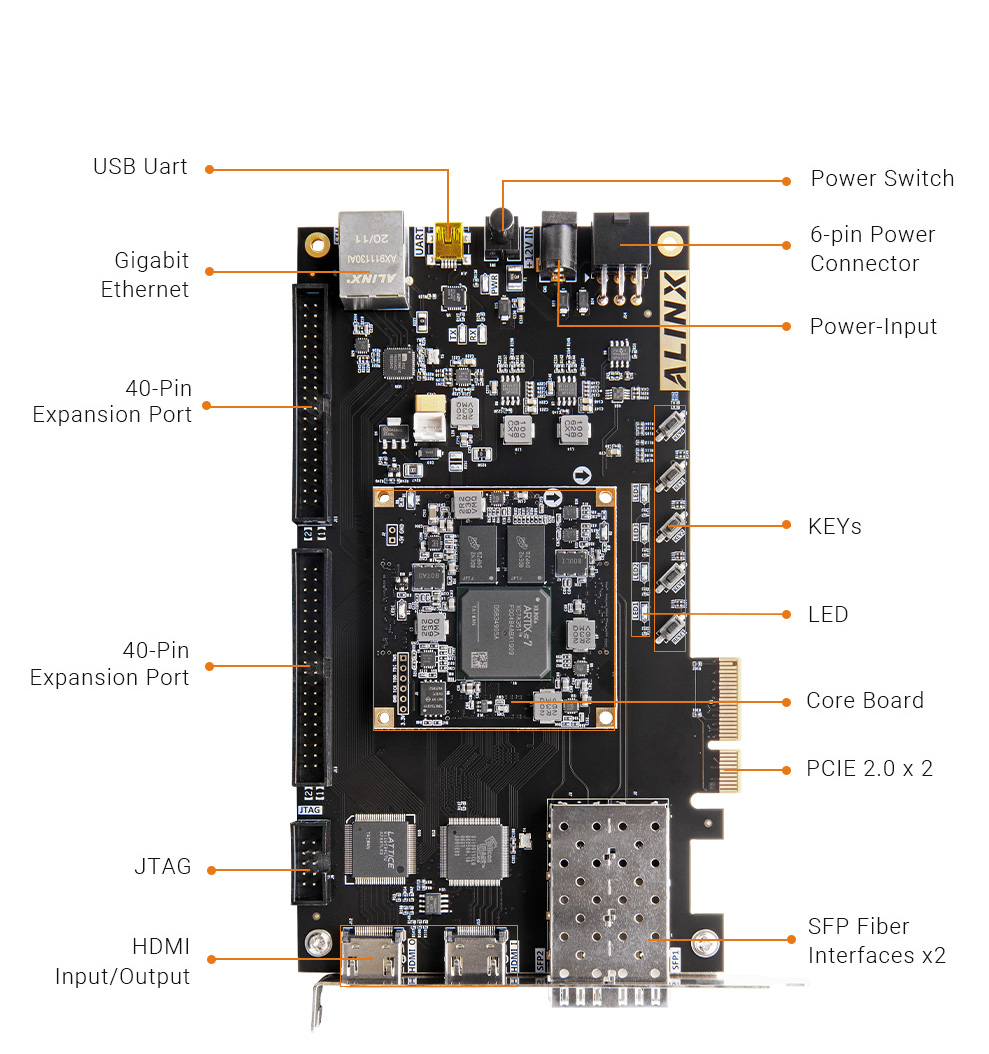 Product Parameters
Core Board Parameters
Supports PCI Express 2.0x4
Interface and Function
Two 512MB DDR3, 32bit Bus, Data Rate 800Mbps
256Mbit, Used as FPGA User Data Storage
200MHz Provide Stable Clock Source for the System;
125MHz Provide Stable Clock Source Input for the GTX transceiver
4 GTP, each up to 6.6Gb/s, Used for SFP and PCIe Data Communication
Provides a Standard PCIe 2.0 x2 High-Speed Data Transmission Interface Single-Channel Communication Rate up to 5GBaud
The Receiving and Transmitting speed of Each Channel is up to 6.6Gb/s
10/100M/1000M Ethernet with RJ-45 Interfaces for Data Exchange
10-pin 0.1-inch Standard JTAG Port for Programs Debug and Download
HDMI Input and Output Interface, Supports 1080@60Hz, 3D Output
Used for Serial Communication with PC or External Devices
EEPROM 24LC04 with IIC Interface On-Board
1 Micro SD Card Slot, Support ted SD Mode and SPI Mode
5 User LEDs(1 LED in Core Board, 4 LEDs in the Carrier Board)
4 User Keys, 1 Reset Key.
Two 40-Pin Expansion Ports (0.1 inch Pitch), Can be Connect with Various ALINX Modules (Binocular Camera Module, TFT LCD Screen, Camera, AD/DA and Other Modules).
Power Supply Parameters
Package List
Heat Sink (Fixed on the Board)
Structure Size
Core Board 2.36 inch x 2.36 inch, Carrier Board 7.40 inch x 4.17 inch
10-Layer Core Board PCB, 6-Layer Carrier Board PCB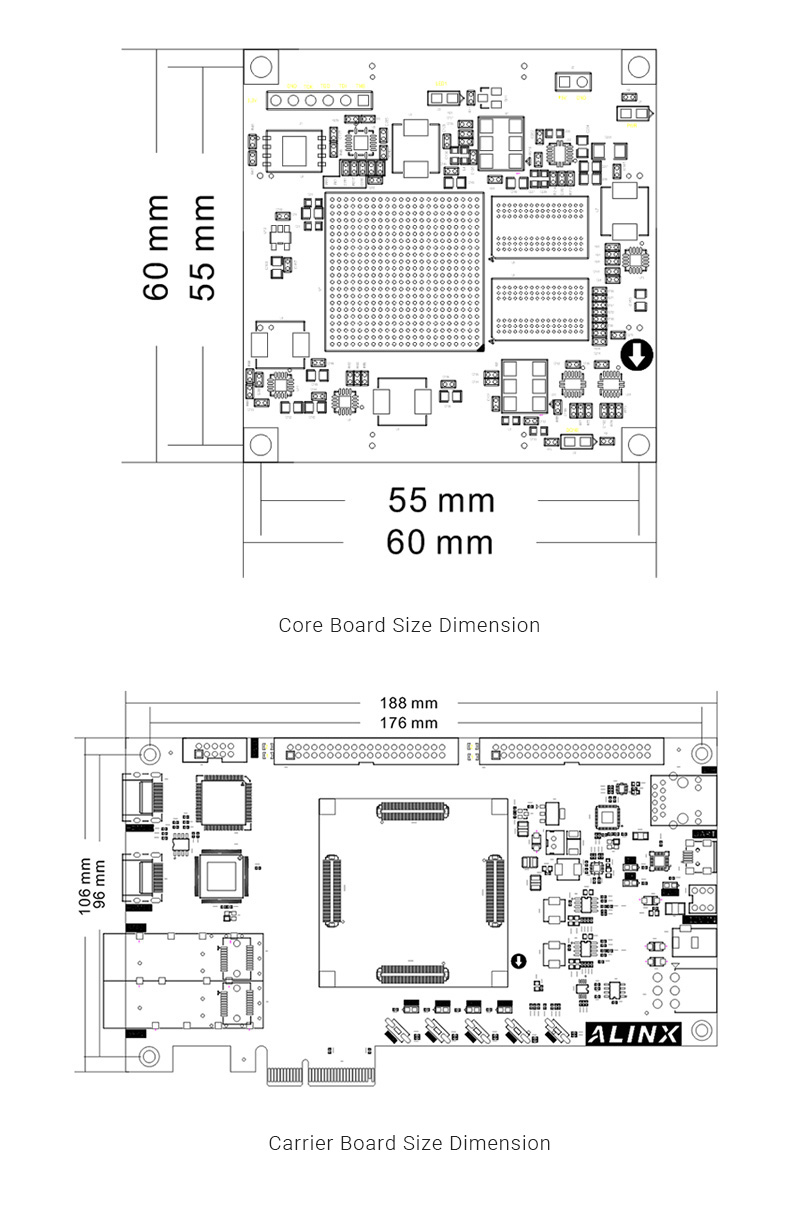 High-Speed Data Transmission
2 x SFP Optical Fiber Interfaces
Industrial Ethernet, Video processing and transmission Optical Fiber Communication, Data transfer exchange
High-Speed SFP Video Transmission
SFP Video Transmission Demo
Expansion Interface Connects Binocular Camera Module Realize SPF Video Transmission
The FPGA Development Board Collects Video Images through the Camera Module, and Transmits it to another FPGA Development Board through the SFP Interface. After the SFP Interface Receives the Data, Displayed it to the Monitor through the HDMI Interface.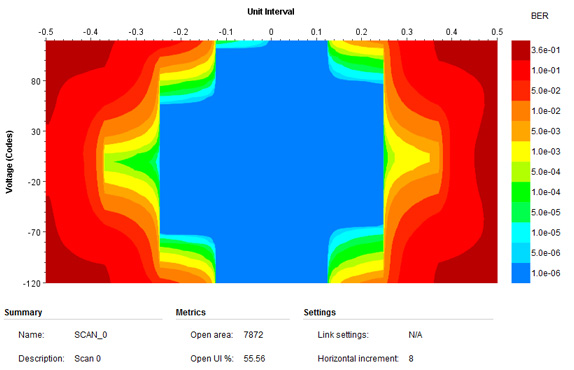 Optical Transceiver Communication Eye Diagram
HDMI iNPUT AND OUTPUT
Verify PCIE Dedicated Board
Verify PCIE Solutions and Accelerate PCIE Development
The video signal is collected through the HDMI input interface uploaded to the computer through the PCIE interface, and the upper computer displays the collected video image in real time
The Host Computer Grabs the Computer Desktop, and Transmits it to the FPGA through the PCIE Interface. The FPGA Outputs through the HDMI Interface, and the Monitor Displays in Real Time
PCIE Read AND wRITE tEST
PCIE High-Speed Data Transmission
Meet Various PCIe High-Speed Data Transmission, Video Image Processing and Industrial Control Requirements
Binocular Camera Module Collection
Camera Acquisition System
Intelligent Identification, Medical Security Vehicle Digital, Industrial Control, Smart Grid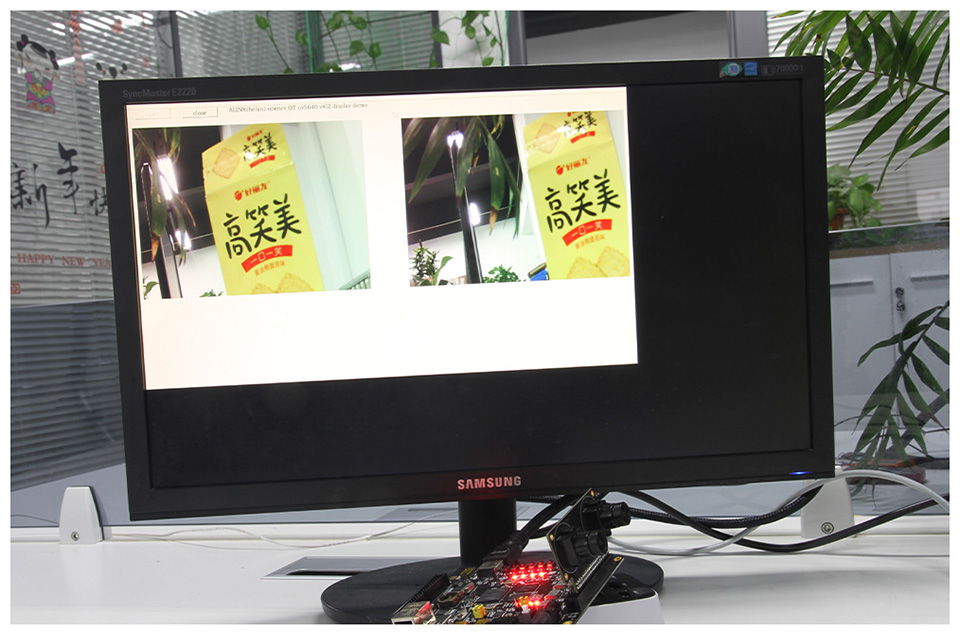 The Binocular Camera Module AN5642 for Video Capture, and Displays it on the Monitor through the HDMI Interface of the FPGA Development Board, to Realize Display Simultaneously.
Data Collection Display
Signal Data Acquisition System
AN9767/AN706 Module On-Board Demo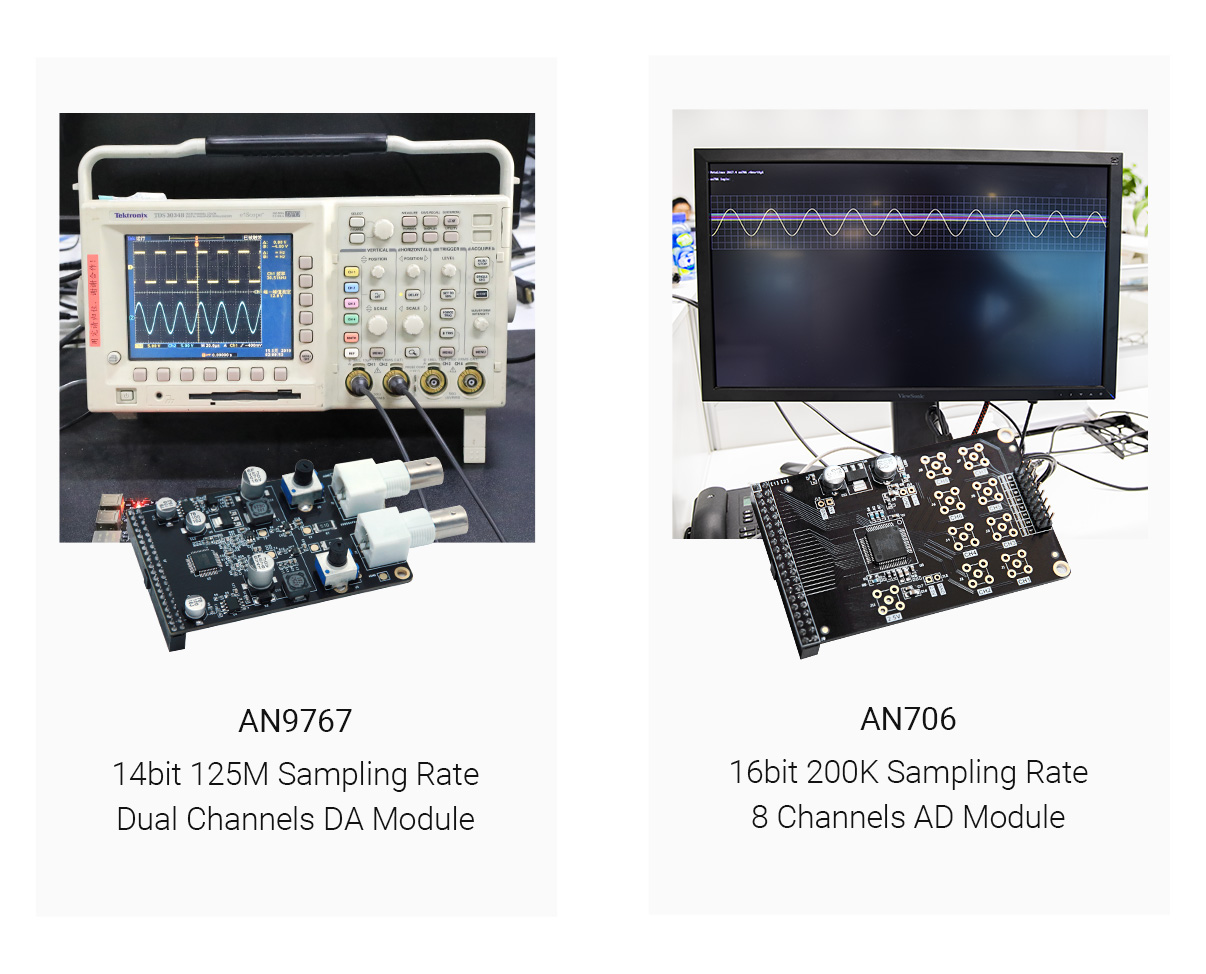 *The Signal Source Output Signal is Connected to the AN9767 Module, and the Waveform Signal is Displayed through the Oscilloscope
*The Signal Source Output Signal is Connected to the AN706 Module, Run the System to Draw the Waveform Data, and is Displayed to the Monitor through the HDMI Interface of the FPGA Development Board